Language can be quite an obstacle in many ways, both professionally and personally. To be able to convey a message that is not your mother-tongue in another language, you need to be fully equipped with not only the grammar and vocabulary but also the context and the culture of both languages.
Being a 1-Stop for your language needs, we can help you tear down that barrier by offering educational services to get you on your feet. Our team of professional instructors helps you learn and practice the language in a fun way, unlike any other institutes. We offer three types of courses; Business English, Test Preparation and General English.
Business English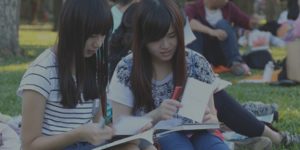 English has become one of the most important languages in the world, thus the ability to communicate effectively in English is crucial to your success. Our courses are designed to help you develop the skills required to perform your job effectively and professionally.
The course includes language assessments and analysis to identify the contexts and technical language required which forms the foundation of the class. Some examples of our classes are negotiation, presentation, writings and many more.
Our instructors are well-trained and have high experienced with students from different industries and background. Courses are interactive, applying role-play and real-life situations.
At the end, participants are evaluated for their ability and comprehension of applied vocabulary, grammar structure, and new language level. A report with constructive comments will be provided to the participant and the HR or Training Department for the record and references.
Test Preparation
TOEFL, IELTS, and TOEIC are accepted by recognized universities and international companies around the world. Test preparation is one of the most important parts of the university admissions process as well as many companies' key requirement. Not only your GPA or CV, but English test score is also a deciding factor in your future academic and career advancement.
Our instructors are in the field. They know inside out about what it takes for the students to be ready, tips, tricks and how to deal with pressure during the test itself. We use up-to-date material and customized teaching techniques that suit each student.
General English
To master English and be able to use it in your everyday life, you need to understand the language structure, how to build sentences and how to apply the appropriate vocabulary in different situations, context, and culture.
Our General English course offers general conversation and four essential skills; listening, speaking, reading and writing. These are helpful for your daily life, whether you are going to socialize with friends, traveling abroad, going shopping, etc. We offer easy lessons from Beginner up to Advanced Courses for high flyers.